Lots of manga I uploaded a while ago. Dumping them here~ Enjoy
Some links might be expired... just comment here and i'll reupload them

Faeries' Landing, sweet II, tokyo boys and girls reuploaded~ added 23.00, a one volume work



Faeries' Landing by Hyun You


Summary
Welcome to Faeries' Landing, a place where the real world and the faerie realm collide. 16-year-old Ryang doesn't realize that supernatural beings descend on his town at night, but when he stumbles on a group of faeries bathing, he ends up becoming guardian of Fanta, a grounded - and very fetching - faerie. Having an otherworldly babe hanging on you 24-7 doesn't sound so bad at first ... but when Fanta's rival curses Ryang, he is destined to encounter 108 doomed relationships ...
~ taken from Tokyopop
Status
: 18 volumes
volume 1 || volume 2 || volume 3 || volume 4
||
volume 5
|| volume 6
||
volume 7

Baby Love
As a little girl, Seara fell in love with Shuuhei, an older boy, but he looked down on her. Years later, when her parents temporarily relocate to the US, Seara takes the opportunity to move into the same house as him. Since Seara looks alot older than she actually is, Shuuhei doesn't recognize her right away. Will he ever recognize her? Will they ever find true love?
(taken from Solaris-Svu)
status: 9 volumes complete
volume 1 || volume 2


As Long As The Sun Shines In The Sky
by Aihara Miki

From ShoujoMagic:
Rieko Edogawa is a second year student at East Edogawa Academy - a private school. She is full of energy and courage, and she is so popular that there is not a soul in her town or school that doesn't know her. But Rieko's one weakness is Teppei Sakamiya, her childhood friend. She has liked him for a long time, but Teppei can only see her as a good friend. Meanwhile... Naoto Akutsu, a transfer student, appears...
Status: 3 volumes complete
volume 1 || volume 2 [cn raw] || volume 3 [cn raw]


Hot Gimmick by Aihara Miki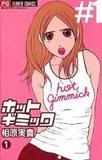 In company-owned rabbit-hutch apartments live tenants who can't afford to live anywhere else. And in the complex where sixteen year old Hatsumi Narita lives, everyone's lives are ruled by the rumor-mongering, self-righteous landlady, Mrs. Tachibana. Get on Tachibana's bad side, and life becomes hell. When Hatsumi has to buy a pregnancy test because her popular sister Akane thinks she's pregnant, Mrs. Tachibana's son, Ryoki, who used to bully Hatsumi as a kid, catches her and promises not to tell the world about Hatsumi's secret as long as she becomes his slave. Suddenly Azusa, Hatsumi's protector in their youth, reappears to save her again! He's moving back into the neighborhood! Despite the budding romance between Hatsumi and Azusa, Ryoki has control over her through the secret that could ruin the lives of everyone in Hatsumi's family, and he hasn't forgotten who his slave is! And he'll make sure Hatsumi doesn't forget either!
Status: 12 volumes complete Licensed
volume 1 || volume 2 || volume 3 || volume 4 || volume 5 || volume 6 || volume 7 || volume 8 || volume 9 || volume 10 [jp raw]


Teacher's Pet by
Aihara Miki

From Shoujomagic:
This is a smuttilicious one volume work by the mangaka of Hot Gimmick! This work is everything smutty you wanted in Hot Gimmick but were afraid to ask for! Misuzu just started her dream job teaching at a prestigeous high school, and she feels totally motivated. Recently, she began going out with the really hot/manly principal Kazuki, and their relationship couldn't be better. But one day. Misuzu had sex with Kazuki's younger brother Masahiro, who happens to be a student at the same school. This is a huge secret that they can't tell anyone: the love affair between a teacher and a student.
Status: 1 volume complete
volume 1
Seiten Taisei by Aihara Miki
From Nekohana:
Ako Doumoto's an everyday gal, she likes shopping and has no big aspirations since her exams are a ways away. That all changes when she meets Katayose-sensei, a teacher and coach of the boys basketball team at Ako's school. Head over heels, she chops off her hair and decides to become the manager of the basketball club in order to win his heart.
Will he open to her will or is her close friend Taiji more for her?
status: 6 volumes (complete)
chapters 1-14 || volume 4 [cn raw] || volume 5 [cn raw] || volume 6 [cn raw]


So Bad by Aihara Miki
From DGT:
Because Yukino's mom is a housekeeper for the Renjyo familiy, she has to suffer the pain of hearing her mom praise the family she takes care of. And this is why Yukino has been trying to beat Renjyo Tamaki for most of her life, so her mom would care more about her than the Renjyo family. But when her mom gets sick, and she has to take care of the Renjyo family instead, her goals change a little.
status: 6 volumes (complete)
v01 - v04 ch1 || volume 4 [cn raw] || volume 5 [cn raw] || volume 6 [cn raw]


Tokyo Boys and Girls by Aihara Miki
From Viz Shoujo Beat Newsletter:
From the creator of
Hot Gimmick!
Mimori Kohsaka runs into an old acquaintance from her elementary school days, but it's not a happy reunion. He accuses her of having bullied him years before and plans to exact revenge. Though the two of them are mutually attracted, the past seems determined to keep them apart.
Status: 5 volumes (complete) Licensed
volume 1 || volume 2 || volume 3 || volume 4 || volume 5

as long as the sun shines in the sky extra by Aihara Miki
Sweet is a collection of short stories. The first story is a bonus chapter of as long as the sun shines in the sky.
chapter 1
10 Days by Aihara Miki
Sweet II is a collection of short stories. Story 01 10 Days by Aihara Miki: High school senior, Aiko, and 30-year-old Shirakawa are to have an arranged marriage, so they decide to try being a couple for 10 days...
Sweet II - one volume complete
Oujisama no Kanojo by Aihara Miki
From The Evil Empire: Michiru's dream is to have a real prince propose to her. Now, three princes from an Arabian royal family come to study at her school and her friend, Tanguchi seems to be a prince from that royal family, too. What will happen next?
chapters 1-3
Snow White '94 by Aihara Miki
Adaptation of snow white.
one shot
Angel Diary aka Destination Heaven Chronicles
Dong-Young is a royal daughter of heaven, engaged to the King of Hell. Determined to get away from her fate, she runs away before the wedding. The king has ordered the 4 guardians of Heaven to find her. Hiding out on Earth (In a boy disguise), Dong-Young is helped by Queen Hong, 2 of the guardians, and a mysterious guy that seems to like her. What's to happen to poor Dong-Young?
volume 1 || volume 2 chapter 1 || volume 2 chapter 2 || volume 2 chapter 3

The Cherry Project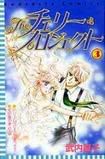 From Starryheaven:

The story about a girl named Chieri (nicknamed "Cherry") who began ice skating ever since she saw the handsome ice skating champion Tsuzuki Masanori skate. She pursues her dream of being Tsuzki's partner, all the while facing her rival, 'Princess' Canty. With the help of her friends, and her own courage, can Cherry win the heart of the boy she loves so much...?

Status: 3 volumes (complete)


volume 1 || volume 2 || volume 3


Files are in .rar format~ if you don't have winrar or even if you do, use CDisplay to load/read the files~ I think it's the best comic viewer. If it says no files to display, that means the zipped file contains zipped/rarred files inside; so just extract the file and load the individual chapter zips
CDisplay